Chuddock, ID (August 19, 2015)—Element Archery has expanded its line of premium, carbon arrows with its new Typhoon .204 Carbon Weave Arrow—the strongest carbon weave arrow on the market.
The new and improved Typhoon is the original .204 Carbon Weave Shaft, ideal for both 3-D and hunting. Its thicker walls have added strength and tighter tolerances, while the slim profile provides less wind drag and drift, for increased accuracy at longer distances. The Typhoon bears the same signature lime green colors of Flying Arrow Archery, the exclusive distributor of Element Arrows.
"Flying Arrow is proud to be the exclusive distributor of Element Archery, and the Typhoon is a prime example of why this is such a great fit," said Chris Rager, Flying Archery president. "Our Toxic broadhead is built to be rock-solid, deep-penetrating, and dependably accurate at any distance, and you can say the same about the Typhoon; together they make a deadly, accurate combination."
The Typhoon is available in three spine sizes: 300 (11.1 gpi), 350 (10.3 gpi), and 400 (9.0 gpi).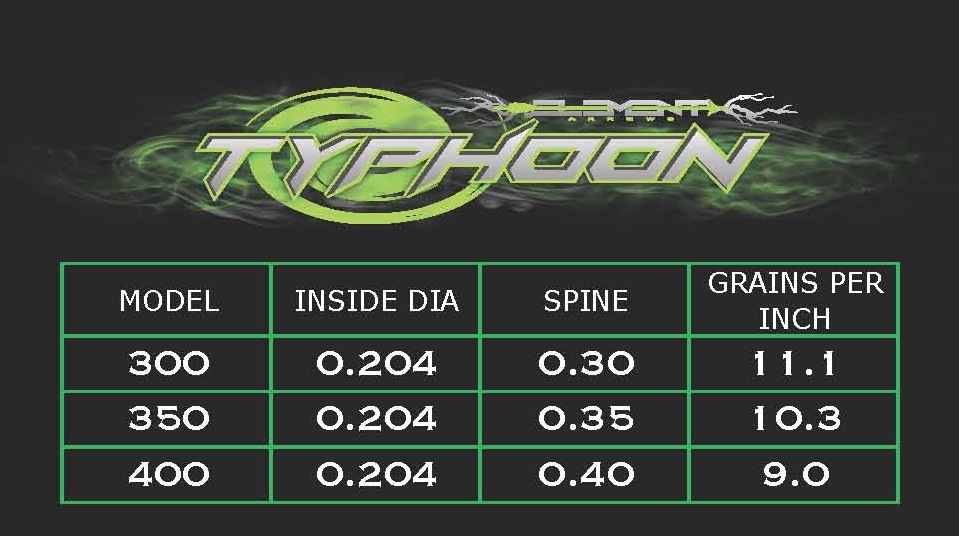 See more about Flying Arrow Archery at www.flyingarrowarcheryusa.com or on Facebook at www.facebook.com/FlyingArrowArchery , Twitter- @FlyingArrowUSA, or on Instagram – FlyingArrowArchery