I have been a serious bowhunter my entire life, I have tried out and shot almost every single arrow and arrow brand in the industry. Element Archery have proven to be the best arrows I have ever shot. That's saying a lot for the amount of arrows I have dealt with. I first started shooting element archery January of 2015.

They have proved to be the best since day 1. As I took them out of the box and shot them into my 3-D targets I first realized how well they flew and how much penetration they got on my targets; it was by far the most I've ever gotten. At this point, I was very excited about testing them out in the field during my spring turkey It is true that turkeys have a vital zone the size of an egg. I decided to try turkey hunting with a bow this year because of my confidence in my groupings with my element archery. I'm a hunter that is totally against wounding animals. If I'm not confident I can make a lethal shot then I simply will not take it. The second morning of Indiana's Turkey season I get a nice tom approaching my decoys. As he circles them, I prepared for a shot. I squeezed the trigger then released my arrow. The arrow zipped right through his vitals and he was flopping on the ground before I even knew what happened. What I learned from this hunt is that Element archery gave me confidence in the field that I will never doubt again. A few months later in August of 2015 I flew to Wyoming to film for my hunting show on the pursuit channel "Bowhunting Safari TV". As we grouped our element archery in camp everyone was checking out our arrows and wondering where we got them. Nobody could believe how straight they flew and how well they penetrated all the way out to 60 and 70 yards. That next morning we headed out to the blinds. The hunt for all 3 of us was short and sweet. I myself had a great pronghorn buck come into the waterhole at around 2 P.M. after a long 9 hour sit. had a perfect heart shot. He stumbled off about 20 yards and dropped. As we looked for my arrow we realized it penetrated too far in the ground to ever be able to find it. My arrow went through that antelope faster than I've ever seen an arrow go through an animal in my life.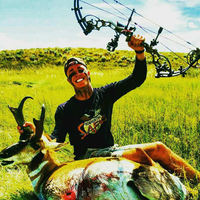 This second hunt proved two things for me. It made me realize how much penetration these arrows get and how fast and lethal they make a pass through. Again my confidence in my shot really helps me enjoy hunting more. As the animal came into the water I was fully confident in making a great shot no matter what distance. That's not because I'm some great shot either. That is solely because I trust and use the most quality archery products on the market. Bowhunting is extremely difficult and there are so many things that could go wrong. Do yourself a favor and try out the element archery like I did and see for yourself how great they are. I personally am 2 for 2 on great hunting experiences with them and am very excited to be using them in Africa this next summer!